Kalisz wafers in foil
Kalisz wafers are yet another (after Wielkopolska fried cheese, St. Martin's rollbread and Heather Honey from Lower Silesian woodlands) Polish product registered in EU as the Protected Geographical Indication.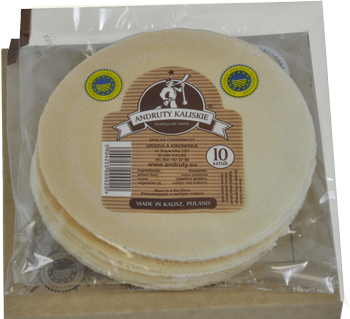 Kalisz wafers are packed in translucent foil with the imprint of our trademark
packed 10 itemst per poil (60-65 gram)
net price per pack 2.70 PLN net +8% VAT
master package – 30 packs
60 cartons on the pallet
Distinctive features::
shape- round, diameter approx. 15-17 cm
colour- subtle differences in the hue of each and every sheet Colour- from ecru to light brown
thickness- approx. 1 mm
taste- slightly sweet, leaving the trace of sweetness in the mounth
crunchiness- very thin, higroscopic wafer: proper baking and storage assures exceptional crunchiness
Contents: wheat flour, vegetable oil, water, sugar
Final consumption date is 6 months.